Sweet, colourful and all the guests loves it? Yes, this is the candy bar!
If you want to make your wedding more special, have a candy bar! Why?
it can be part of your decoration, you can choose the colour which matches to your decoration
it can be very colourful or you can stick on the colours of your decoration
you can have it also if you plan a wedding abroad
it can be also the favour for your guests, from which they can take some with
all the people loves it, from the youngest to the oldest
every guest can find something what he likes (candies, M & M's, lollies, chocolates, small muffins, etc.)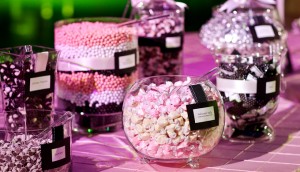 Photo: katelynjamesblog.com
How to make a candy bar?
buy different kinds of candies, lollies, chocolates, or other sweets you like
put them into different glass vases (round, rectangular, smaller, bigger, lower, higher)
make a personalized tag with a ribbon for every kind of sweets
put all on a table where all the guests can see it
Extra idea:
Buy bigger lollies and make a special and unique tag for them. You can write on it your initials or the date of your wedding.
If you plan a destination wedding, try the local sweets! Ask your wedding planner to give you information about the local specialities. This can make your wedding abroad more unique and special and the guests will love it too!
If you plan a wedding in Hungary, include "Dunakavics" or "Francia drazsé" to your candy bar! You have also numerous other options, just ask your wedding planner or your Hungarian relatives who help you to organize your wedding in Hungary.
Happy planning!
Nora